Our parks make Highland Park a desirable place to live, work, play and visit. Highland Park's athletic fields and robust programs attract families to the Park District's Athletics and the community.
Only four of our ten parks support our community athletic programs: Danny Cunniff, West Ridge Park, Sunset Woods Park, and Larry Fink Memorial Park. Overusing these parks negatively impacts turf conditions and contributes to increasingly poor drainage. All of these parks, compared to those in surrounding communities, are outdated, costly to maintain, and frequently flood, shortening the baseball and soccer seasons.
Sadly, budgeted athletic field maintenance does not cover the upgrades necessary to make our parks viable and competitive with our North Shore neighbors.
What's the Plan?
Improving field drainage and speeding up field recovery time following heavy rains are critical for the Park District to enable reliable programming and reduce cancellations from sports clubs that provide us with rental income.
The Park District's Sports Field Master Plan, developed using direct feedback from four diverse community focus groups, supports both phases of the Athletic Field planning effort:
PHASE I: $1.7M estimated cost to renovate and revive Fink Park
PHASE II: $3M estimated cost to renovate athletic fields at Danny Cunniff Park and Sunset Park.
Top recommendations for renovations as outlined in the Master Plan will:
Improve speed of water drainage. Replace sod with ecologically designed turf.
Reduce maintenance requirements in both time and cost allocated, so fields are maintained sustainably for years to come.
Improve amenities to provide ease of access and to help ensure enjoyable experiences in good and inclement weather for players and spectators.
Create a multiple-field sports hub to accommodate a variety of teams and age groups throughout the North Shore.
Enhance and increase available parking.
These renovations are part of a larger vision to create a proactive funding model connecting community members to outdoor activities and nature for the long-term through beautification and essential services. Your donations help ensure our world-class fields provide Highland Park and the surrounding communities with quality outdoor activities for years to come.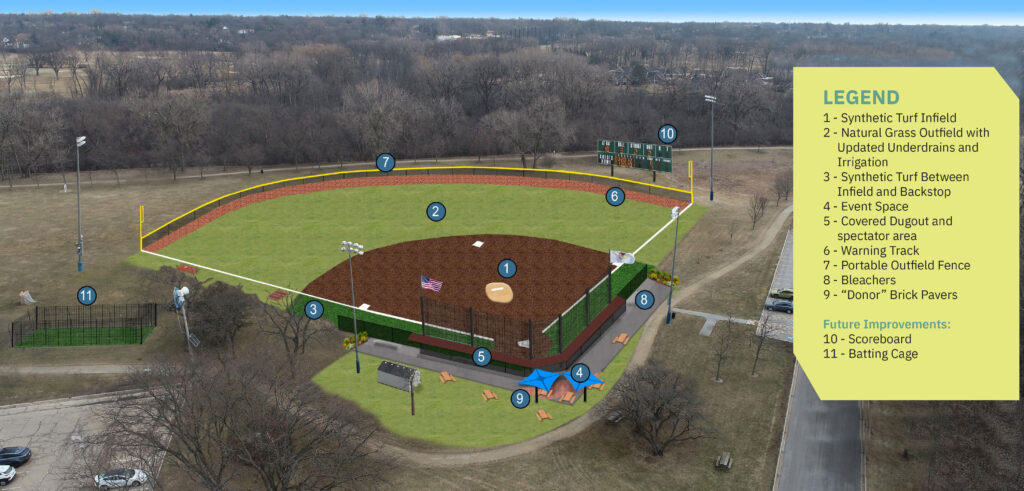 Don't I Pay Taxes to Pay for This?
Taxes provide approximately 50% of the Park District's annual operating budget of more than $20 million. The balance of the income is derived from user fees, rentals, external fundraising, major gifts from donors like you, and endowments for special projects to support our programming and facility updates. Most importantly, donations help prevent unnecessary tax increases.
Fundraising: A Community-Driven Effort
A group of concerned community members formed the Giants Athletic Boosters, a committee of the Parks Foundation of Highland Park. Booster members are building awareness regarding the value of Athletic Field updates and leading the charge to raise funds from donations and corporate sponsorships. They are working with the Park District, and the Parks Foundation to develop a proposal for these projects, with an estimated end goal of April 2024 to open the new turf field at Larry Fink Memorial Park.
Why Do I Care?
The Park District has a long history of providing superior, well-rounded athletic programs, which is unique among our North Shore neighbors.
We have one of the oldest park districts in Illinois.
We formed one of the first baseball teams in the area in 1876 with the Highland Park Highlanders.
Our athletic program is one of the few leagues on the North Shore managed by a park district coach and staff member, as opposed to seasonal volunteers.