---
April 17, 2023
The Wonderful Life of Edmond Zisook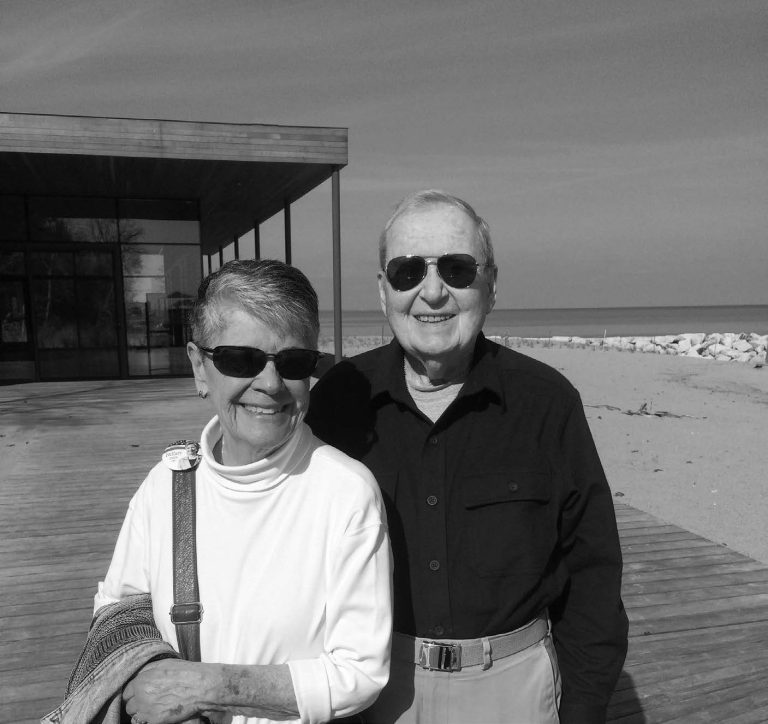 Edmond Zisook was elected a Park Board Commissioner in 1973 and served as the Board President from 1975 to 1979. As important as that is to the history of the Park District of Highland Park, it's just a small part of the story of this extraordinary man whose life's work is embedded in the
fabric of the community. Edmond died in March, 2023.
When you talk to people who knew Edmond, you hear many wonderful stories of how he deeply influenced their lives and come to realize that important parts of the Park District of Highland Park owe their beauty—and even their existence—to his unwavering dedication to the community. We hope this story may inspire you to find ways to make the community that Edmond loved an even better place to live, work and play.
A LOVE OF COMMUNITY.
In 1964, Edmond and his wife Lois moved their young family to Highland Park. Ice skating was done outdoors at Sunset Park and school rinks, as there was no indoor ice rink in town. "Some other neighboring communities had indoor rinks," said his daughters, "and Dad and others felt that the residents of our community should have the best facilities as well." Since the Park District had land, but not the funds, a citizens committee was formed, with meetings held in the Zisooks' living room and Edmond as chairman and guiding force. Almost $700,000 was raised through the sale of local revenue bonds to finance construction and Centennial Ice Arena opened to the public in 1973.
ARCHITECT. LANDSCAPE DESIGNER.
Edmond Zisook was a true mid-century American architect, studying under Ludwig Mies van der Rohe at Chicago's Illinois Institute of Technology in the late 1940s and early 1950s. As a harbinger of his future in parks & recreation, his 1952 Master's Thesis at IIT was titled A Recreation and Social Center for a Neighborhood Community. After serving as a sergeant in the U.S. Army from
1952–1954, he joined Skidmore, Owings & Merrill, and then opened his own firm in 1955.
PARK BOARD COMMISSIONER.
The Park Board election in 1973 is remembered by some as a bit contentious. Edmond ran for the Board and urged the development of new parks and facilities, particularly in the south end of town which did not have a major park. He also urged equal access for women at Sunset Valley Golf Course, which was a radical notion in 1973.
During his years on the Board, Edmond pushed for development of Deer Creek Park, now Fink Park, and construction of the Deer Creek Indoor Tennis Center, as well as the development of Heller Nature Center. Edmond's daughters remember him taking constituents' calls late at night, and going out often to talk with residents and explain the Park District's position on matters of concern. As always, community service was the driving force. "He was always respectful of the citizens of the Park District. He listened to them, valued them, and worked to provide what they needed and wanted", they said. Edmond believed that the Park Board and the staff needed to provide the best services and facilities for the residents of the Park District.
A LIFE ON THE WATER.
For Edmond's entire lifetime, he loved Lake Michigan. He was an excellent swimmer, and began sailing as a teenager. He passed his passion for the lake on to his daughters. "In the summers, Rosewood Beach was our recreation," said his daughters. Weekends were spent swimming, playing in the sand, and sailing a small boat off the beach.
As years passed, the lake level rose, storms battered the beaches all along the North Shore and Rosewood Beach deteriorated. The high waters eventually claimed the original beach house and pier. All during those years, long after his term as Commissioner, Edmond remained hopeful
for the day when funds would be available and the beach would be rejuvenated for community recreation. His dedication to that idea would bear fruit in 2011 when the Park District, led by then Executive Director Liza McElroy, identified Rosewood Beach as a high priority for Renovation and formed the Rosewood Beach Task Force.
FIGHTING FOR ROSEWOOD BEACH.
The Rosewood Beach project was not without controversy. Some people were quite happy that the little remaining beach was almost always empty, quiet, and private. But private was the opposite of everything Edmond believed about community recreation. And that was especially true when it came to the beach. Only about a dozen cities in Illinois have Lake Michigan beaches and he believed that as a community fortunate to be on the lake the Park District of Highland Park should have an excellent public beach.
Edmond was an active and important member of the Rosewood Task Force, whose first responsibility was to recommend the architectural firm for the project. His expertise was critical in the presentation of the architectural renderings to local residents and concerned citizens who lived north and south of the beach. "Dad could explain how everything that was to be constructed would be in harmony with nature and in proper proportion," said his daughters. "Edmond was so well-liked and
respected by everyone," said McElroy, "He was always a calming influence on the Task Force." Celebration of the beautiful lakefront was the primary objective, and it was achieved.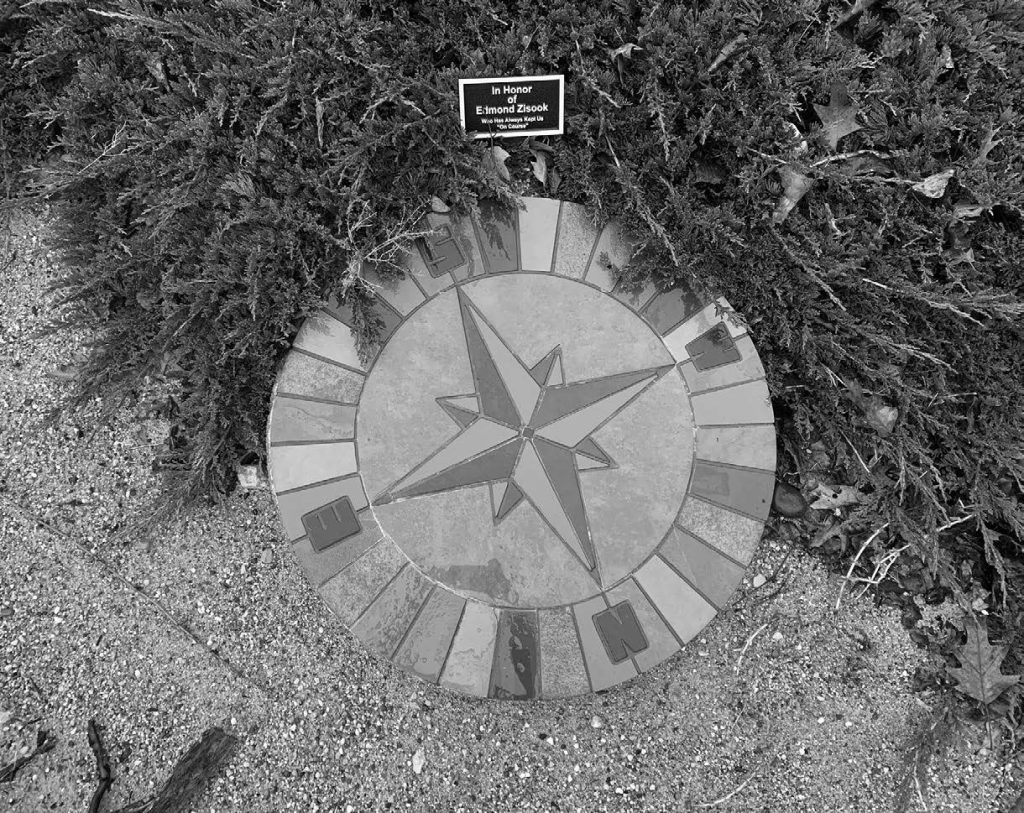 The Rosewood Beach renovation was completed in 2015, with a grand opening on June 6. "It was exactly what Dad dreamed it would be and a huge source of pride for him," said his daughters. For a life dedicated to making sure that the Park District had the best recreational facilities, programs,
parks, and open space for the entire community, this was a dream come true. Edmond loved visiting Rosewood and seeing people swimming, children playing on the beach, paddle boarders, and families picnicking and enjoying the boardwalk and Interpretive Center.
When you visit Rosewood Beach, be sure to find the compass located outside the Interpretive Center. It will show you the direction of True North, which isn't along the shoreline as you might think. It's a fitting tribute to Edmond's lifelong love of sailing on the lake, his love of the beach and how he helped guide the Rosewood project to a smooth landing.
A LEGACY OF SERVICE.
Both of Edmond's daughters grew up with a devotion to the Park District of Highland Park and its programs. In the last 25 years of his life, one of Edmond's true joys was watching his grandchildren
grow up in Park District programs and facilities: parent & tot classes, swimming, day camps, ice skating, tennis, sports programs and travel leagues, nature programs, dance and art classes and after school classes offered by the Park District. Edmond was an active member of the Recreation Center of Highland Park and always had a critical eye for ways to enhance the members' experiences.
From its creation in 1992, Edmond and Lois were great supporters of the Park District's S.M.I.L.E. Scholarship Program and that states, "Everyone in our community should have access to Park District programs regardless of their family's financial situation." S.M.I.L.E. is
funded through private donations and makes it possible for hundreds of residents to participate in camps, sports, lessons, and fitness programs.
In 2022, the Zisook family created the Lois & Edmond Zisook Rosewood Beach Summer Scholarship, through the Parks Foundation of Highland Park, to support the Park District summer camps at
their beloved Rosewood Beach. The Zisook Scholarship is available annually to help fund High Tide, Low Tide Camp for School District 112 families facing financial constraints. There are currently three
$1,000 scholarships available.
For details on how to apply for the scholarship please visit the Park District's Scholarships & Donations page or email scholarships@pdhp.org. To donate to the scholarship in Edmond's memory, visit the Park District's Donation Information Page.
All of us at the Park District owe so much to Edmond Zisook and his wife Lois, and their dedication to our community. We are forever grateful to have known him.